Posted by
admin
on in
All Time Greats
,
Featured Articles
|
Comments Off

on Triple Crown Champion – Henry Armstrong
By Jim Galiano –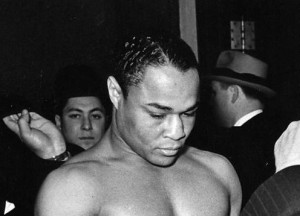 Henry Armstrong. He wasn't just good… he was great. Possibly, next to Ray Robinson, the greatest pound-for-pound fighter in the history of the sport. Back in the days when there were only eight weight divisions in the sport, Armstrong held the Featherweight, Lightweight and Welterweight titles – simultaneously. He almost added Ceferino Garcia's Middleweight belt but settled for a draw instead.
He also holds the record for Welterweight title defenses – making an incredible 19-defenses within a two year span!
The journey to the top, however, was not an easy one for Armstrong. Armstrong, born Henry Jackson on December 12, 1912, was the eleventh of fifteen children. Henry borrowed the last name of a good friend, Harry Jackson and began his career fighting under the name "Melody Jackson." Melody was Henry's middle name. It was a tough initiation into the world of boxing. After more than 60 amateur fights, he suffered a third round knockout defeat in his professional debut against a fighter named Al Iovino.
Armstrong also lost back-to-back decisions the following year (1932). By the end of 1932, Armstrong's record stood at 5-3 with one knockout to his credit.
Things changed for better in 1934 when he caught the attention of Al Jolson and his wife, actress Ruby Keeler. They saw Henry fight and believed he had what it took to go far. They wound up underwriting the purchasing of his contract for manager Eddie Meade. Under Meade's guidance, everything changed. With the proper training, oversight and connections, Henry Armstrong began perfecting his swarming, pressure-fighting style.
ARMSTRONG VS. SARRON (Featherweight Title)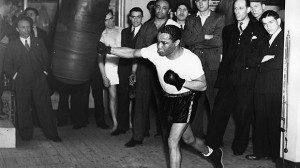 "Hammering Henry," one of three nicknames his non-stop, attacking style had earned him, captured his first title (the Featherweight Title) in 1937 against Petey Sarron. Behind on points going into the 6th round, Armstrong stunned Sarron was several punches to the head and dropped him to all fours with a short right to the chin. Sarron took the ten-count and a new champion was crowned.
Armstrong fought an amazing 27 times in 1937 and was named Ring Magazine's fighter of the year over Joe Louis.
ARMSTRONG VS. ROSS (Welterweight Title)
Fourteen fights later, Armstrong challenged Welterweight great Barney Ross for the undisputed Welterweight title at Madison Square Garden. Armstrong's non-stop punching overwhelmed Ross. Henry said years that Ross asked him to allow him to finish the fight on his feet around the 12th round. Barney Ross had never been stopped in his career and wanted to end the fight on his feet. Armstrong agreed but warned Ross, "I'll let you finish standing on your feet… but if you try to hurt me, I'll knock you out!"
Barney Ross never fought again.
Legendary trainer, Ray Arcel, trained Ross for his bout against Henry Armstrong. Arcel said in later years, "He could be classified with the greatest fighters of all time."
Armstrong's bobbing, weaving, full-throttle attack overwhelmed opponents and thrilled fans. His cross-armed defense combined with his incredible offense made a prime Armstrong a fighter for the ages.
ARMSTRONG VS AMBERS (Lightweight Title)
With the Featherweight and Welterweight titles now in his possession, Armstrong set his sights on the Lightweight title held by Lou Ambers. Ambers was trained by Charley Goldman, the master trainer who went on to mold Rocky Marciano into the Heavyweight Champion of the world.
The two met on August 17, 1938 at Madison Square Garden. The fight was brutal, with Armstrong suffering a bad cut in his mouth. He later said he swallowed his blood the last six rounds in fear of the fight being stopped. Armstrong threw punches from bell to bell and Ambers did his best to stay right in there with him – firing back.
He floored Ambers twice. Once in the fifth round and once again in the sixth. In spite of being penalized in four rounds (which were then given to Ambers), Armstrong came away with a split decision victory and the Lightweight title. The official scores were 8-6-1 (Armstrong), 7-6-2 (Armstrong), 8-7 (Ambers).
Henry Armstrong had done what was once considered unimaginable – winning three titles in just over nine months. It was a feat that may never be duplicated again.
Armstrong never defended his Featherweight title and vacated it shortly after winning his third title.
His 19-defenses of the Welterweight title within a two year span is another record that will probably also remain indefinitely, for many years to come.
He eventually lost the Lightweight title in a rematch with Lou Ambers. He was penalized for low blows that wound up costing him five rounds. These were rounds ringsiders said he would have otherwise won.
He tried for a fourth title against Ceferino Garcia, a Middleweight champion he'd already defeated at Welterweight. He settled for a draw in what was called a terrible decision.
Overall, Henry Armstrong faced 17 champions during his career and defeated 15 of them.
He lost the Welterweight title in October of 1940 to Fritzie Zivic in what would have been his 20th title defense by a 15-round unanimous decision. He was floored just seconds before the final bell and was fortunate to make it to the end without getting stopped. Approximately three months later, they fought a rematch. It was a dirty fight. Zivic, one the dirtiest fighters of all-time, used everything at his disposal including thumbs, elbows, head butts, etc.
Armstrong fought valiantly despite suffering cuts around his eyes, swelling and being on the receiving end of a lot of punishment. The fight was stopped in the 12th round. Fritzie Zivic retained his title by TKO.
Although he would never again content for a title, Henry Armstrong continue to fight until 1945.
His final record, depending up the source you consult, was approximately 174 bouts, 150 wins, 21 losses, 10 draws, 101 knockouts.
SUMMING UP THE CAREER OF HENRY ARMSTRONG
Henry Armstrong packed three career's worth of fighting into a single career. Comparisons are made to Manny Pacquiao, who started his career as a Flyweight and ended up as a Welterweight, capturing multiple titles along the way. Jimmy McLarnin is another example of a fighter starting at 112 lbs. and finishing his career at 147 lbs.
As far as fighting styles and comparisons go, I see Aaron Pryor as the closest, modern comparison. Armstrong had all the qualities that make a fighter great – along with a sensational, crowd-pleasing style.
It's been said that upon Armstrong's death, it was discovered that his heart was about a third larger than the average person's heart. The same has "large heart phenomena" has been documented concerning all-time great cyclist champion Lance Armstrong (no relation!). Both athletes exhibited the same ability to maintain high outputs of energy at a sustained rate, beyond that which was considered the norm for their respective sports.
A prime Armstrong actually seemed to get stronger as the fight wore on.
Although Armstrong and Sugar Ray Robinson actually did meet in the ring (August 27, 1943 – Robinson W10), it would have been something to have seen a prime Henry Armstrong against Robinson in a fight for the ages. Robinson and Armstrong are generally regarded by most experts and historians to be two of the very best pound-for-pound fighters in the history of the game.