Posted by
admin
on in
Featured Articles
,
Product Reviews
|
Comments Off

on Title Bout Championship Boxing 2013
By Jimmy Krug –
I started playing Title Bout in its first incarnation as a board game way back in 1979. Title Bout quickly became a favorite with myself and my core group of friends. The idea of computer simulated fights stretches all the way back to the late 1960's and early 1970's. It was then that a computerized tournament featuring the all-time great heavyweight champions culminated in the now infamous – Marciano-Ali "super-fight" finale. The film was shown in 1500 theaters across the US and Europe with Ali and Marciano reenacting the computer's round by round results. The age of computerized sports simulations had begun.
Almost a decade later, Tom and Jim Trunzo brought their creation (Title Bout Boxing) onto the market with the help of Avalon Hill Games. Thanks to the original efforts of the Trunzo brothers, Title Bout has grown into one of the most realistic sports simulation games on the market today.
Since my introduction to the game back in 1978-79, I'm proud to say I've been playing Title Bout Championship boxing in all its different forms and versions for the past 35 years.
And now, thanks to our friends at P.I.S.D. Ltd (Platform Independent Software Development), Title Bout Championship Boxing enters a new era with the latest, newly coded "wiring" under the hood.
With over 6,000 fighters (including photos, biographies and links to the fighter profiles at boxrec.com) you can match up fighters from different eras, create individualized fight cards, organize tournaments and much more. Fights can be simulated in seconds, or you can enjoy a punch-by-punch, round-by-round, bout from beginning to end – with all the punch-stat statistics available at your fingertips.
The results are realistic, but like the sport of boxing itself – upsets do happen. About twenty years ago, I remember the simulation to this day, Mike McCallum scored a shocking 15th round, come from behind stoppage over Jake LaMotta. So if you're favorite fighter gets caught with a big shot late in a fight… and gets stopped by the follow-up flurry, don't complain about the programming. That's boxing.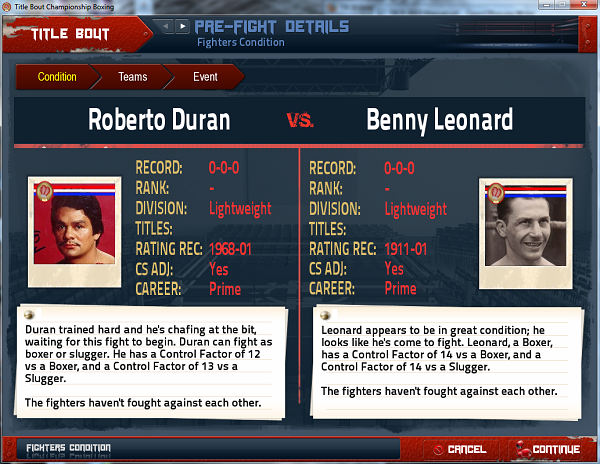 Upsets are rare in real life, but they're rare in the game as well. This adds the extra dimension Larry Merchant often referred to as, "the theater of the unexpected."
From the scoring systems you use to the judges and cornermen that are chosen for each fight, this game has it all. If you're serious about having an edge, I suggest having people Ray Arcel and Freddie Brown in your corner.
You can be as in-depth or as basic as you'd like with the setup when it comes to playing the game. In other words, if you want to match up Mike Tyson, Joe Louis, Muhammad Ali and Rocky Marciano as quickly as possible, you can have them trading punches with just a few clicks of the mouse. If you want to take your time and choose the cornermen, the location (like the MGM Grand), the judges at ringside, and the announcer (like Michael Buffer), you can do that too.
You can even create yourself as a fighter (in your prime, of course) and insert yourself into the appropriate weight class. Sure, you'll have to give yourself the benefit of the doubt when it comes to your ratings, but that's the joy of being creative and the game allows you to do just that.
If you think a particular fighter is overrated or underrated, you can go right ahead and change the ratings, too. Just make sure you uncheck the box that connects the fighter to the server so your changes don't get overwritten.
The game's interface is fairly intuitive and the average person should be able pick it up quickly without too many hassles. Once you do, you find you'll be able to quickly add all of the extra features and create the complete "big fight" experience. Most of us who've played the game for years create entire universes containing most or all of the weight classes. By doing this, you can watch as history unfolds, champions rise and fall, and records are both set and broken.
As you can probably tell, I really enjoy this game. According to what I've read, a new career mode and other exciting updates are on the table for the next version which should be coming out sometime in 2014.
If you're a boxing fan and your imagination enjoys having a workout, give it try if you've never played it before.
If you have, go ahead and continue to support it and upgrade to the new version. Even if you're a diehard user of a previous version, know that sooner or later… hardware and software changes will render that version obsolete. For more information – click here >> http://tbcb.pisd.co.uk/cgi-bin/page?home