Posted by
admin
on in
All Time Greats
,
Featured Articles
|
Comments Off

on The Heavyweights – How Much Does Size Matter?
By Jim Galiano –
The year was 1988. Mike Tyson was the Heavyweight Champion of the World. His blend of speed, power and ferocity had historians and fans alike assessing his ability in mythical match-ups against the great champions of the past. The Tyson of 1988 was a bobbing, weaving, perpetual motion fighting machine. He was capable of throwing triple uppercuts with a combination of speed and power that impressed even the most critical of observers.
At the time, Tyson's height was listed anywhere from 5' 10" to 5' 11". Many of those who met him in person, however, stated that his height seemed closer to 5' 9." At approximately 218lbs, height hardly seemed to matter when factoring in his combination of speed, style and strength.
Similar to Rocky Marciano, who possessed the shortest reach among the heavyweight champions, style and ability trumped the physical dimensions.
Even so, when boxing analysts in the 1980's compared Tyson to the heavyweight champions of the past, "size" in the form of weight was usually factored into their equations. The question, how could a smaller fighter like Jack Dempsey compete with 218 lbs. of speed and muscle?
Some pointed out that Jack Johnson was only 10-12 pounds lighter than Tyson in his prime. His main liability against Tyson, as several writers pointed out, would probably be his chin if he were caught by a big punch. Dempsey and Marciano were both lighter than Tyson as was Joe Frazier. In a dream fight scenario, most experts factored in Tyson's weight advantage all three fighters – even Joe Louis. Granted, it wasn't the "deciding factor," but it was certainly "a" factor.

The post-1988 version of Tyson (after Kevin Rooney was replaced as trainer) was a different fighter in many ways. Gone was the aggressive bobbing, weaving, perpetual motion machine. The older version offered occasional head movement and moved forward with his gloves tucked under his chin –  looking for the big punch.
It was the post-prime, fast aging (in fight years) version that climbed into the ring against Lennox Lewis in June of 2002. Lewis pounded Tyson into submission in eight rounds. Afterwards, Tyson said before exiting the ring, "He was just too big."
Lewis stood 6' 5" with an 84" reach.
This brings us to our point. Does size matter? It did for Tyson in 2002. Consider the men who went the distance with a prime Mike Tyson  –
James "Quick" Tillis 6' 1" 207 lbs. (1986) L10
Mitch "Blood" Green 6' 5" 225 lbs. (1986) L10
Bonecrusher Smith 6' 4" 233 lbs (1987) L12
Tony Tucker 6' 5" 221 lbs. (1987) L12
All four opponents managed to tie successfully up Tyson once he got inside to basically neutralize his attack.  Of the four, Tillis is the only fighter we'd consider "normal sized" for the era. Tillis was the only man of the four who used boxing skills and movement to frustrate Tyson throughout the fight. The other three, although the actual fights were less competitive, used their sheer size, weight and reach to avoid prolonged exchanges. And by doing so, they minimized the possibility of getting hit with a big punch. All four of these fighters were defeated.
FIGHTING "BIG"
Emanuel Steward is credited with teaching Lennox Lewis how to fight like "a big man," using his jab and right hand along with his height and reach which created a natural advantage over most opponents.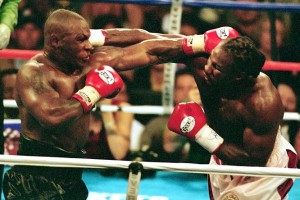 Ironically, it would be another big man in Vitali Klitschko (6' 7" 248 lbs) who would give Lewis fits using the same jab, right-hand style. Klitschko came up short, however, succumbing to a bad gash over his eye in the 8th round. It was an interesting match-up of giants pitting a post-prime champion against a pre-prime challenger.
Since Lewis' retirement, the Klitschko brothers have used their enormous size (Wlad stands an inch shorter than his brother at 6' 6") along with the jab/right hand formula to dominate the Heavyweight division. Fight after the fight, the same statement is repeated again and again by the vanquished, "They're just too big."
Wlad hasn't lost since 2004. Vitali's last loss was against Lewis in 2003. Both men, like Lewis, learned to perfect the "big man style" in later years. This brings us back to the question, does size matter? If used correctly, the answer would seem to be – most definitely.
You can technically put the weight issue aside for a moment and consider the height and reach aspects alone. Michael Spinks used his height (6' 2 ½ ) and 71" reach to keep the Camden Buzzsaw, Dwight Muhammad Qawi, on the end of his punches all night during their Light Heavyweight title unification showdown back in 1983. If there was a poster boy for ineffective aggression in a fight, Qawi was it on that occasion! To say there was "no buzz in the saw" would be an understatement.
Vernon Forrest, the late Welterweight and Jr. Middleweight Champion fought "tall" against a very good Shane Mosley and defeated him twice. Forrest stood 6' 0" and possessed a 73" reach. At 5' 8", Mosley didn't fare too well getting around the jab and punching up at the taller Forrest.
Height and reach are not easy factors for most fighters to overcome. It's not just the fact that a fighter may possess the "bigger numbers." It's the fact that they know how to leverage these assets from one round to the next. Throughout boxing history, very few fighters seemed to thrive against taller opponents. Mickey Walker, the original Joe Walcott and Rocky Marciano to mind.
Keep in mind, a pole axe of a jab being repeatedly thrown with force by a 6' 6" fighter weighing 240lbs or more will pile up the damage over the course of several rounds.
The options are simple. The opponent has to be willing to take some big shots to get inside the reach and turn the fight into a shootout. Make no mistake about, there's a price to pay to get "inside." Just ask Ray Leonard or Marvin Hagler who managed to walk through the bombs of Tommy Hearns. For every Leonard or Hagler, there were plenty of Duran's who wound up getting counted out.
I used to ask myself why fearsome Heavyweight bomber David Tua fought so cautiously against Lennox Lewis when they met back in 2000. Today, the answer seems obvious. Tua's 5' 10" found himself on the end of Lewis' 6' 5" jab. With the damage he received from that alone, he probably thought going "Hagler" against Lewis wouldn't have ended in his favor.
You can go all the way back to George Foreman's brutal dismantling of Joe Frazier. Watch the films closely. You'll see that, although Foreman's brutal uppercuts were more than Frazier could handle, it was the heavy jab and reach advantages that laid the foundation for everything that followed. It was the same "big man" formula that allowed Foreman to embark on his historical comeback a decade after his original retirement.
SIZE ALONE IS NOT ENOUGH

Of course, as we've already said, size alone is not enough. Physical dimensions do not make a world class fighter. This is true in the boxing ring, on the basketball court, or any other arena that comes to mind. What's evident over the last twenty years and the past ten in specific is this – the number of large, work class athletes is on the rise. This is true in every professional sport. Baseball players, football players, track and field athletes, tennis players – you name it. The increase in size, speed and overall athleticism is at an all time high and in boxing, this is most evident in the heavyweight division.
How would a fighter like Jack Johnson deal with a giant with a punishing jab and big right hand like Lennox Lewis or Vitali Klitschko? Would Rocky Marciano be able to get inside and do enough damage to win?
It's easy to imagine him needing the championship rounds of the 15-round distance to get the job done.
It looks like the age of the Giant Heavyweights is here to stay. It will be interesting to see who the next dominant heavyweight will be after the Klitschko era comes to its conclusion. One thing is almost a guarantee… he won't be short!