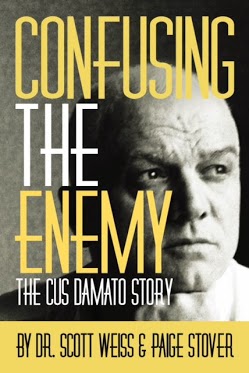 Earlier this month (June), I received a review copy of, "Confusing The Enemy: The Cus D'Amato Story." The press release that accompanied the book raised the question, "Why has no one written it until now?" Good question! I believe this book supplies the answer to this and many other questions about one of sports most unusual characters. By the second chapter, I was fully immersed and couldn't stop reading.
If you're a boxing fan, you'll enjoy this book. If you're a hardcore boxing fan, familiar with the rich history of the sport – you'll love it. The Cus D'Amato story takes the reader back in time for a ringside seat view of the legendary days of sport, right through to the mid 1980's. The authors did a great job of bringing "Team Tyson" with all of its characters to life. Cus D'Amato, Floyd Patterson, Jose Torres, Jimmy Jacobs, Norman Mailer, Sonny Liston, Muhammad Ali and others are brought to life within this 700+ page tome.
Many boxing fans only associate Cus D'Amato with Mike Tyson and the well-documented events that led to him winning the heavyweight title against Trevor Berbick.  In many ways, that's just the tip of a much larger iceberg.
The book contains a great cast of the colorful characters. Many of these individuals, unfortunately, are no longer with us to share their stories and insights directly. About midway through the book, I found myself having such a renewed interest in Jose Torres' life and career… I wanted to contact him for an interview. One Google search later, however, I discovered to my dismay that he passed away in 2009.
Cus D'Amato was a private man. Throughout his lifetime, he seemed to play the dual role of boxing insider and outsider – all rolled up into one. I was surprised to learn the role he played throughout Muhammad Ali's career. The brief mention of Cus D'Amato in a few of the Ali biographies I read was just that. A brief mention. This book does a great job of pulling back the curtain on their unique relationship.
The authors, Dr. Scott Weiss & Paige Stover, did an excellent job capturing the spirit of the old New York fight scene. This was truly a unique era, filled with unforgettable characters that have become part of boxing lore.
Although the book is bound to raise some questions, some controversial, the writers did a great job in presenting the facts as they stand without pushing the reader to a particular conclusion.
Confusing The Enemy – The Cus D'Amato Story is an instant classic for the boxing bookshelf.  All of us here at www.TheBoxingMagazine.com recommend it highly.
You can buy your copy here: http://www.confusingtheenemy.com