Posted by
admin
on in
All Time Greats
,
Featured Articles
|
Comments Off

on Salvador Sanchez – One Fight Made All The Difference
By Jim Galiano –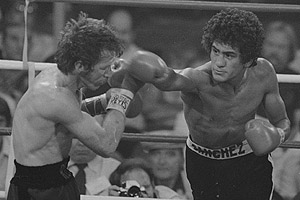 For Salvador Sanchez, all it took was a single fight to bring his career out of the shadows and into the spotlight. And in the spotlight it remained until his untimely death at the age of 23. While I can't say I remember both of Sanchez's bouts with Danny "Little Red" Lopez like it was yesterday, I remember them none the less.
I was a big Lopez fan at time. The year was 1980. Boxing was about to enter into another "golden era" of sorts. With fights broadcast regularly on free TV, the major networks brought us a regular stream of all-out, action-type fighters such as Bobby Chacon, Cornelius Boza Edwards, Ruben Olivares, Wilfredo Gomez, Carlos Zarate and of course, Danny Lopez. Quite simply, the decade of the 80's was a terrific time to be a boxing fan.
Back to our story.
Although Sanchez brought an excellent record into his fight with Lopez (33-1-1), it was hardly against standout competition. A long line of no-hopers led to a fight against Antonio Becerra (14-2) for the vacant Mexican Bantamweight title in 1977. Becerra came away with the decision.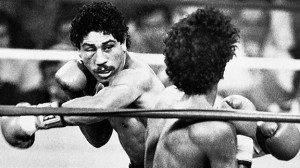 Three fights later in his American debut, Sanchez was floored twice and almost stopped in the final round against Juan Escobar (8-2). The fight was declared a draw and the crowd booed the decision. Sanchez changed his management after the Escobar fight and hired trainer Enrique Huerta. Huerta worked with him and converted his style from the traditional Mexican style to that of a boxer-puncher.
Going into the WBC Featherweight title fight against Lopez, there was a general consensus among boxing insiders the fight would be over once Lopez landed one of his thunderous punches upon Sanchez's prominent chin. During the lead-in to the fight, they broadcast a highlight reel of Lopez's kayo victories over David "Poison" Kotey, Mike Ayala and Jose Caba. A clear edge in experience went to Lopez. It seemed like a Lopez victory was in the bag even before the fighters even stepped into the ring.
That's part of the beauty of the sport. Once the bell rings, anything is possible.
In the opening round, Lopez shuffled forward behind his left jab, looking for a home for his big right hand. Sanchez moved and counterpunched. When a counterpunch suddenly staggered Lopez, I was a little surprised, but not overly worried. Lopez wasn't the type of fighter who was "difficult to find," as the saying goes. He was a puncher. Like all punchers, he was willing to take a few to land a few.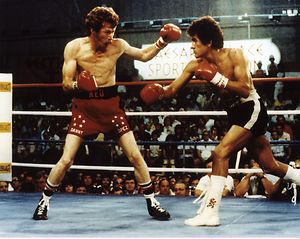 Like everyone else, I figured the last thing Sanchez would be able to do is stand inside with Lopez and trade punches. Lopez led and Sanchez countered. It soon became evident that Lopez's punches weren't having the effect on Sanchez everyone thought they would. Not only that, but as the rounds continued, Sanchez continued to land two or three solid counters to every punch Lopez threw.
Looking back, it comes as no surprise that Sanchez's under the radar development transformed him from the "not quite ready for primetime" fighter into the man who systematically broke down Lopez. The end of Lopez's championship run came at 51-seconds into the thirteenth round. Sanchez later commented on how he felt after absorbing some of Lopez's big right hands – saying, "He's not as strong as I thought."
At the conclusion of the fight, talk of a rematch began immediately. Did Lopez take Sanchez too lightly? I'm sure he didn't lose any sleep over the outcome going in. That said, Lopez was in good shape when he stepped into the ring. His straight ahead, stand-up style was just too one dimensional against Sanchez's counterpunching strategy, however. Had they fought a dozen times, the outcome would probably always be the same.

The Don King Factor
The next steps came quickly for Sanchez. Signing with Don King as a promoter turned out to be, in this writer's opinion, a pivotal point in the career trajectory of Salvador Sanchez. Like other athletes, opportunity is often the missing link between potential and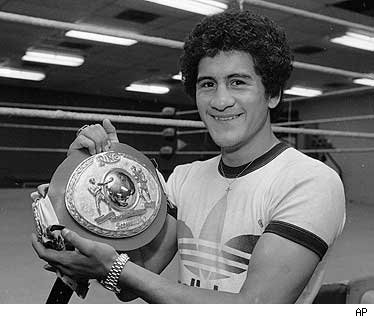 the realization of that potential. Sanchez is a perfect example of this. All it took was a single fight to turn everything around. And when it was over, he never looked back.
Two months after winning the title, he was back in the ring making his first defense against Ruben Castillo. Sanchez won a 15-round decision.
After Castillo, Salvador Sanchez stepped back into the ring with Danny Lopez for their anticipated rematch. Lopez did a little better, but the result was basically the same. Sanchez forced a TKO stoppage in the 14th round when Lopez, who was completely out of gas, took one too many solid punches.
The second fight against Lopez really solidified Sanchez's standing in the minds of many as being a true world champion. He became an overnight hero among his countrymen in Mexico.
Sanchez struggled in his next fight against Patrick Ford of Guyana, coming away with a 15-round majority decision. Ford's height, reach and jab gave him problems in the early rounds. Ford would go on to face Sanchez's counterpart, WBA champion Eusebio Pedroza, in his very next fight.  Pedroza dominated Ford, scoring a 13th round knockout. It was Pedroza's 11th defense of the WBA title. The promotional drums for a Sanchez vs. Pedroza unification bout started beating.
Unfortunately, the fight would never occur.
Sanchez reeled off two more title defenses (Juan LaPorte W15 & Roberto Castanon TKO10) leading up to a superfight with undefeated Jr. Featherweight king – Wilfredo Gomez. Gomez, who was rising in weight, had a spectacular record of 32-0-1 with all of his wins coming by way of knockout. Gomez was very confident going into the fight. When asked about Gomez, Sanchez said, "I'm the champion. I know I'm a better boxer than Gomez, a sharper puncher with better speed and reflexes."

Salvador Sanchez vs. Wilfredo Gomez
The Sanchez-Gomez fight was electrifying while it lasted. Gomez weighed in four pounds over the 126-pound limit. Two subsequent trips to the scales also ended in failure. Although his official weight was listed at 126, some people doubt that he actually made weight at all.
One thing was for certain, by the time he stepped through the ropes on December 12, 1981, he was looking for an early knockout to win.
Gomez's seek and destroy mission took an unforeseen detour less than halfway through the first when he was floored by a combination of punches – punctuated by a left hook to the chin which landed as he was falling to the canvas. To his credit, he arose and survived the round.
Adding injury to insult, one of Sanchez's opening round punches also succeeded in breaking the check bone beneath Gomez's right eye. This resulted in a huge amount of swelling under and around the eye area. Although Gomez would bravely fight his way back in the subsequent rounds, the crisp punching of Salvador Sanchez piled up the swelling and facial damage – reducing both eyes to two slits. When Sanchez dropped him again in the 8th round, it was all over.
Referee Carlos Padilla signaled the end.
In toppling Gomez, Salvador Sanchez had won the biggest fight of his career and was instantly elevated on everyone's pound for pound lists.
He closed out 1981 with a split decision victory over tough Pat Cowdell in December.

1982 – The End of the Road
In May of 1982, Sanchez made his 8th defense of the WBC title against Rocky Garcia (23-2) W15. This led to his final fight, and one of his most exciting. His intended opponent, Mario Miranda, pulled out of the fight with an injury less with less than two weeks to go. A substitute, a young, inexperienced, Azumah Nelson (13-0) was chosen.
The fight took place at Madison Square Garden on. This fight was easily the toughest of Sanchez's career. Sanchez finally pulled the fight out of the fire for good with a 15th round, TKO stoppage. This fight did as much for Nelson as it did for Sanchez. Nelson went on to establish his own Hall of Fame career.
On August 12, 1982, Salvador Sanchez crashed his new Porche 928 on the San Luis de Potosi highway while trying to pass a truck. He collided head-on with a pickup truck and was killed instantly.
At the time of his death, plans were already underway to move up to lightweight to face Alexis Arguello after a scheduled rematch with Juan LaPorte. The fight was already in the signing stages. After the Arguello fight, Sanchez planned to retire from the ring and pursue his dream of becoming a doctor.
Was Salvador Sanchez Overrated?
How good was Salvador Sanchez? Was he overrated as some have suggested? I understand both sides of the argument. Mechanically speaking, Sanchez was capable of doing it all. He could box, punch, counterpunch and take a punch. As a 23-year old fighter, Salvador Sanchez accomplished a lot by any standard.
Saying that Gomez had not trained properly or that Danny Lopez was one dimensional doesn't alter the fact that Sanchez delivered results when it counted the most. Had Sanchez lived and his career continued, like all fighters, he probably would have met his match, had an off night, or experienced any of the other number of potential setbacks that fighters have experienced throughout history of the sport.
The same would probably have been said about Ray Leonard had he passed away after his victory over Thomas Hearns.
Sanchez's best work occurred between February 1980 and July of 1982. Based upon these fights, I would think it would be fair to say that Salvador Sanchez could have fought competitively with the best 126-pounders in history. He wasn't unbeatable, but he sure was hard to beat.