Posted by
admin
on in
Editor's Desk
|
Comments Off

on Pacquiao vs Bradley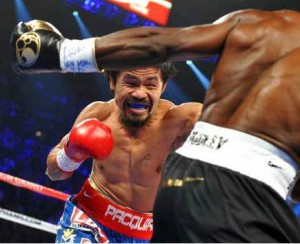 It's June 16th and the summer of 2012 has begun! Talk will continue about the results in last weeks fight between Manny Pacquiao and Timothy Bradley. Bradley sure looked surprised when the decision went his way. Regardless, what we've seen is nothing new. True, we didn't expect something like this to happen to Manny Pacquiao. Especially with a potential megafight with Floyd Mayweather existing on the not-so-distant horizon. But happen it did and now all that matters is how will things play out in a rematch. All the talk of "investigations" will amount to nothing more than it already is in the mind of most viewers and fans – a poor decision.
Will Pacquiao be able to stop Bradley in their rematch? Will Bradley be more effective in the rematch, barring further injuries to his feet? That's the question a lot of people are going to pay money to find out. If the rematch goes to Pacquaio with even the slightest bit of controversy attached to it, don't be surprised to see a third fight, either.
What about Mayweather? Good question. I'm sure he'll be back against a decent opponent after the holiday season. I'm not as exciting about seeing a Mayweather-Pacquiao match-up as I used to be, though. Although I believe Pacquiao defeated Bradley last week, I can't help but feel he's slipped a bit in his last two fights. No one stays young forever and Manny has a lot of miles on his body. While he's still a very good fighter, I feel that the "sensational" edge he once had has eroded as is the case with all great fighters with the passing of time. The same can probably be said of Mayweather.
The thing is, how wants to pay big buck to see Pacquiao miss more punches than he lands while Mayweather takes minimal risks on his way to a decision victory? I was hoping to see Floyd face the Pacquiao who dismantled Miguel Cotto a few years back. That fighter, however, may be gone. I hope I'm wrong.
What about the two judges who scored the fight for Bradley? Well, Duane Ford and C.J. Ross have been basically roasted in the court of public opinion. Their days of refereeing big fights are probably over. At the end of the day, they'll have no one but themselves to blame.