Posted by
admin
on in
All Time Greats
,
Featured Articles
,
Product Reviews
|
Comments Off

on Muscle And Mayhem – The Kid Lavigne Story
By Joe Torcello –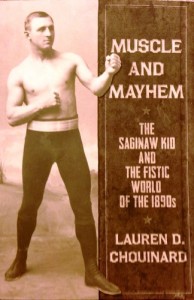 When discussing the greatest fighters in the history of the sport, modern fight fans seldom bring up the names of fighters from the late 1890s and early 1900s. For whatever reason, maybe it's the jumpy film footage associated with early Chaplin films, these fighters are often dismissed with a wave of the hand as being crude and novice-like by today's standards.
How would Jim Corbett fare against the top 190-200 pounders of the last 50 years? In the context of this article, however, consider the great Lightweight champions of the past 100+ years. When was the last time the name "Kid Lavigne" (or George "Kid" Lavigne) included in the conversation? Probably never.
One writer, Lauren D. Chouinard, has gone a long way towards changing that in his new book – "Muscle And Mayhem – The Saginaw Kid And The Fistic World Of The 1890s.
The author was kind enough to provide us with a signed copy of the book a few months ago and we're really happy he did. I have to admit, at first glance, the 400+ page book was seemed a little imposing. As the story unfolded, however, I found myself immersed in a time we sometimes refer to in our time as, "The Days of Yor."
The "Kid," as you'll come to know him, was one of boxing's earliest ring legends. His non-stop pressure and high punch output was coupled with a sub-human-like endurance which allowed him to rule the Lightweight division , grinding down naturally larger opponents – including the legendary Joe Walcott (in his prime). Imagine facing an opponent applying non-stop pressure, with a cast-iron chin, for 25-rounds? That was the Kid.
Eventually, "the drink" caught up with him – but not before he left an indelible mark upon the history of the sport. Much like an archeological dig, author Lauren D. Chouinard unearths a fantastic find which has been long since covered by the sands of time.
With the proper promotion, it's not unthinkable to say that the Kid Lavigne story could possibly cause some historians to reconsider their picks of the greatest lightweights of all time.
That has certainly been the case with us at theboxingmagazine.com.