By Joe Torcello –
With the recent passing of Joe Frazier, boxing fans around the world took some time to reexamine the career of one of the most exciting, dynamic pressure fighters in the history of the sport. In doing so, they've also gained a renewed appreciation for the man who brought Muhammad Ali to the brink of what he called, "the closest thing to death," in the third and final fight of their storied trilogy.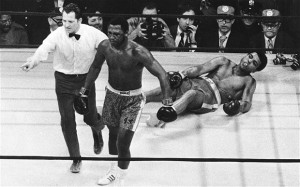 As an amateur, the only fighter to defeat Frazier was Buster Mathis. A broken thumb suffered by Mathis gave Frazier the opportunity to replace him in on the 1964 Olympic team and the rest is history. Joe went on to win a gold medal and turned professional immediately afterwards. As a professional, Frazier reeled off 26 consecutive victories without a defeat before facing the undefeated Muhammad Ali in the "Fight of the Century." The fight took place at Madison Square Garden on March 8th, 1971. Frazier dropped Ali in the 15th round and won the fight by a unanimous decision. All three judges using the rounds system scored in favor of Frazier – 9-6, 11-4 and 8-6. Going into the final round, Ali needed a knockout to win.
Standing just under 6 feet tall and weighing between 205-210 lbs. at his peak, Frazier was a small Heavyweight by today's standard. His bobbing and weaving, perpetual motion style, however, made him a difficult target to hit. In this writer's opinion, the Frazier who faced Ali for the first time in 1971 was a better, faster, more difficult to hit fighter than the version who faced Ali for the 2nd and 3rd times in 1974 & 1975 respectively.
It was the latter version who suffered a brutal TKO against Big George Foreman in 1973. Six visits to the canvas, courtesy of the man who was arguably the hardest puncher in the history of the sport can go a long way towards take the edge off one's reflexes and adding "mileage" to the physical body overall. The fact that Frazier kept getting up speaks volumes of his ability to soak up physical punishment and still keep fighting.
The more distance we put between today and the late 1960's and early 1970's, the more evident it becomes that Ali, Frazier and Foreman are three fighters who could have held a Heavyweight title (or at least a portion of it) during any era in the history of the sport.
That brings us to our main point, which is – how would Joe Frazier have fared had he fought in a different era? How does Joe Frazier match up against the best heavyweights of the 1980's, 1990's and the 2000's? Let's take a look at some mythical matchups.
JOE FRAZIER IN THE 1980'S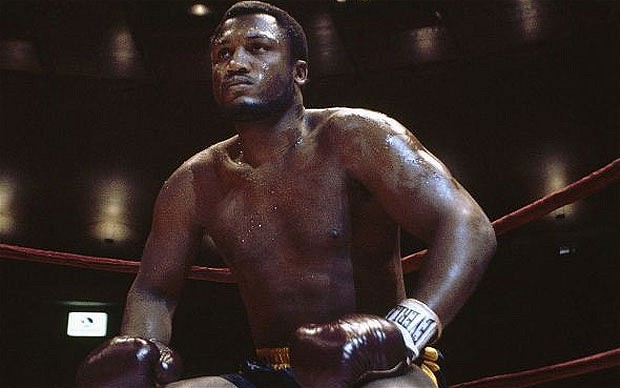 Had Frazier been in his prime during the earlier part of the 80's, he would have found himself matched against fighters such as; Mike Weaver, Michael Dokes, Tim Witherspoon, Tony Tubbs and Larry Holmes. In examining a Frazier-Holmes matchup, we have the Holmes-Norton and Frazier-Ali fights to use as barometers as to how both fighters performed under fire.
It's not too difficult envisioning Holmes' chin giving out under the tremendous pressure of Frazier… especially over the 15 round distance. Holmes possessed one of the greatest jabs in the history of the division. It carried more power than Ali's and was followed with a great right hand. Holmes recovered well after being knocked down, although he may have made multiple trips to the canvas against Frazier as he did against a young Mike Tyson later in his career.
One thing is for certain, this would have been an exciting fight while it lasted. My pick would be Frazier via a 10th round stoppage in an exciting fight. Frazier's relentless pressure and punching power would be the different in this fight.
Mike Tyson presents a different kind of challenger for Frazier. Tyson was an explosive combination puncher and a very fast starter. It's not difficult envisioning a double-uppercut dropping Frazier multiple times and forcing an early rounds stoppage. Oscar Bonavena, a straight-ahead slugger, had Frazier down twice in the 2nd round during their first meeting in 1966. Frazier rose both times and went on to win a close majority decision over ten rounds. Bonavena was nowhere near the finisher Tyson was, however.
In Frazier's favor, Joe got stronger as a fight progressed. If Frazier made it past the first three rounds, it's not too difficult seeing him dig in and start landing his explosive hooks to the body against Tyson. Once that happened, you have a totally different fight on your hands. Make no mistake about it, Frazier could hurt anyone. George Foreman once said in an interview that he "felt the wind" from a Frazier hook that missed him by a few inches and said to himself, "I have to get him out of here before I really get hurt!"
This is a hard fight to pick, but if pressed… I would probably go with Tyson's blend of speed and power ending matters in the early rounds.
Against a prime Frazier, I really don't see Mike Weaver, Michael Dokes, Tim Witherspoon or Tony Tubbs pulling off an upset victory. There's no doubt here that Joe Frazier would have enjoyed much success in the 1980's.
JOE FRAZIER IN THE 1990'S
The 1990's gave us the likes of Riddick Bowe, Evander Holyfield, Lennox Lewis, Frank Bruno, Michael Moorer and other colorful characters. Although it's possible picturing Frazier caught and hurt by big punches, as was the case with Foreman, it's almost impossible to envisioning him staying on the canvas against a Bowe, Holyfield or Lewis.
A prime Frazier's work rate was second to none. Of all the big men who fought during the 90's, Bowe was one of the better infighters. He didn't have the jab of a Foreman, however, to set up his other big punches. Instead, he would have probably obliged Frazier and fought with him on the inside. Frazier's pressure and punch output would wear the big man down as the rounds wore on. It's hard to see Bowe making it past the 11th round.
At his best, Holyfield had loads of heart and excellent conditioning. He also recovered well when hurt. While he was capable of surprising a lot of people on the right night… I don't see him as a favorite to beat Frazier no matter how you look at it.  Frazier would hit and hurt Holyfield often.  I will give Evander the benefit of the doubt that he would still be standing at the final bell, but the decision would never be in question. Frank Bruno and Michael Moorer would probably suffer brutal knockouts or TKO defeats against Smokin' Joe.
An older, more mature Lennox Lewis might have the best chance against him in this group. True, he did suffer knockout defeats against fighters not nearly as skilled as Frazier. At his best, however, he possessed the jab, reach, height and power to stay on the outside and away from Frazier's big left hook. Whether or not he could do so over the course of 12-rounds or more is another story. Evander Holyfield was able to get inside Lewis' reach and did so when he was slightly past his prime. Holyfield was competitive against Lewis. Frazier, however, would throw far more punches than Holyfield did.
If we weren't talking about a prime Joe Frazier, it would be easy to see him suffering a similar fate as a past-prime Mike Tyson did against Lewis. A prime Frazier, however, presents a much different scenario.
Overall, Joe Frazier matches up very well against the best fighters of the 1990's.
JOE FRAZIER IN THE 2000'S
The 2000's have marked the beginning of the age of the "Giant Heavyweights."
Wlad Klitschko – 6'-6 ½ inches tall, weighing up to 246 lbs.
Vitali Klitschko – 6'-7 ½ inches tall, weighing up to 252 lbs.
Nicolay Valuev – 7' tall, weighing 320+ lbs.
Lennox Lewis (older version) 6'-5 inches tall, weighing up to 250+ lbs.
It's interesting to note that even the "shorter" heavyweights of this era regularly weigh in at the 230+ pounds mark. Hasim Rahman, Oleg Maskaev, Ruslan Chagaev, Sam Peters and many others tipped the scales at weights that far exceeded the norms of earlier eras.
The argument has been made that it would be very difficult for the champions of previous eras such as Dempsey, Louis, Marciano, Frazier, etc., to compete against fighters with huge weight and reach advantages. Although there were a few giant heavyweights competing in past eras, the skill level and athleticism of fighters such as the Klitschko's has made it very difficult for their smaller, contemporary counterparts to compete effectively against them.
After suffering a 7th round TKO against Wlad Klitschko in 2006, Chris Byrd (a boxer with respectable skills) admitted that conqueror Wlad Klitschko was, "… just too big." Mike Tyson said the same thing following his loss to Lennox Lewis, although it has already been noted that he was past his prime at the time.
Recently, a very solid Tomasz Adamek (a smaller Heavyweight with a higher work-rate) suffered a one-sided pounding and TKO loss in his bid to dethrone WBC Champion – Vitali Klitschko. Klitschko's size advantage was just too much for Adamek to overcome.
Talented, gigantic heavyweights who know how to fight and have learned how to use their height, weight and reach advantages effectively seem to present a real challenge to their smaller counterparts.
A prime Joe Frazier is certainly a "cut above" Chris Byrd and Tomasz Adamek as far as overall ability goes.  That's an easy enough conclusion to come to. You have to wonder how effective he'd be in getting around the jab of a present day Vitali or Wlad Klitschko? In his matchups against George Foreman, it was Foreman's jab that set up the big uppercuts and hooks that took Frazier apart.
It's much easier picturing Frazier getting inside and catching Wlad with a big punch and dropping him than it is seeing him do the same to an iron-chinned Vitali. It's also not too difficult picturing either of the Klitschko's turning Fraziers legs into rubbery spindles with a big power shot.
In these mythical matchups, I find myself going back to Mike Tyson's younger days and his battles against 6'-4", 230 lb., James "Bonecrusher" Smith and 6'-3", 238 lb., Donavan "Razor" Ruddock. The sheer size, reach and weight of both men gave Tyson some problems. Tyson was heavier than Frazier and arguably physically stronger in their respective primes. The edge in speed also goes to Tyson. Conditioning and will-power definitely go to Frazier.
The question for Frazier would be, would he (at the very least) be able to keep his hands moving enough over the course of 10, 12 or 15 rounds to outpunch a giant Heavyweight opponent like a Klitschko or a Lewis and take a decision?
Or, would a punishing jab result in the kind of eye swelling he suffered against?
My belief is – the younger version who fought Ali the first time had enough speed and head movement to avoid "eating jabs" all night long against the best of the big men. Frazier would also be punching "up" which, as Rocky Marciano once said, gives a puncher an edge in being able to use his legs to generate additional power.
I don't like the way he matches up against Vitali Klitschko for the same reasons he suffered two one-sided losses against George Foreman. I do, however, give him a decent chance at chopping down Wlad Klitschko or Lennox Lewis or being busy enough to take a decision against either man. Either way you look at it, he would take some hard punches in the process and have to survive some anxious moments over the course of the fight. Neither Lewis nor Klitschko exhibited the ability to soak up punishment or recover well after being badly hurt during their careers. Against Joe Frazier, a safety-first approach would almost certainly be in the back of both fighter's minds.
Of the three, Vitali Klitschko would probably been Frazier's toughest assignment. While I wouldn't rule out knockout victories against Lewis or Wlad Klitschko, I have an easier time envisioning him outworking them and earning decision win over 12 rounds.
SUMMING IT UP
At his best, Joe Frazier was a full-throttle, high-octane, pressure fighter who possessed one of the best left hooks in the history of the sport. Although he'd be a small Heavyweight by today's standards, it's probably safe to say that he would have done very well regardless of the era he fought in.
Joe Frazier