Posted by
admin
on in
All Time Greats
,
Featured Articles
|
Comments Off

on Jim Braddock – He Made the Impossible, Possible
By Joe Torcello.
They say getting knocked out can sometimes be like waking up out of a deep sleep. You can hear the sounds of the alarm clock… but what you see before your eyes is still the fog of the dream world. As Jim Braddock sat on the canvas, straining to make out the audible count of referee Tommy Thomas faintly heard in the distance, he was wondering why he was unable to move. His legs felt paralyzed.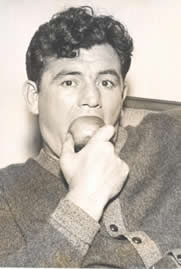 By the time count reached 9… 10… he was back from the fog and once again – firmly entrenched in the land of the conscious folks. He was also the ex-Heavyweight Champion of the world.
In the world of boxing, every story comes complete with an ending. Even Cinderella stories.  There's something to be said, however, for those in position to choose how it will end. And that's exactly how it went with Boxing's original Cinderella man.
Jim Braddock was born in 1905 in the infamous "Hell's Kitchen" (a neighborhood of Manhatten) in New York City. Hell's Kitchen was a renown "breeding ground" for underworld figures – especially for the Irish Mob.  Living on the West Side meant having your share of street fights as you grew from boyhood into manhood and Braddock grew in a hurry! He already stood over six-feet tall by the time he'd reached the age of 16. What stood out about James J. Braddock even at a young age to those who knew was the fact that he was always a gentleman.
Jim was the youngest boy in a family that consisted of six boys and two girls. At the age of 14, he said goodbye to school and began following in the footsteps of his brother Joe who was already earning prize money as a fighter. It was under the guidance of Joe that Jim began to learn the "boxing trade." At the age of 20, Jim became the amateur – Light Heavyweight champion of New Jersey. He worked as a regular laborer at the docks to make a living as he developed as a fighter. Working the docks was a tough, physically demanding job. But it also helped develop his strength.
A year later, the wheels of destiny began turning when Braddock met boxing manager, Joe Gould, at Joe Jeanette's gym in Hoboken, NJ.
Joe was 9 years Jim's senior and had the type of connections to take his career to the next level. Under Gould, Braddock turned pro in 1926. Braddock went 14-0-2 before losing his first fight – a newspaper decision loss to Paul Cavalier over 10-rounds.
At the time, people weren't sure whether to credit Braddock skills or Gould's matchmaking for the results being produced in the ring. In 1927, Braddock stepped it up a notch, facing the tough, skilled and experienced – Pete Latzo.  Braddock, a decided underdog, showed both skill and power – breaking Latzo's jaw and winning a 10-round decision. He then faced a highly rated Tuffy Griffith and stopped him in the 2nd round.
Although he lost a tough decision in his next fight, he won the following three bouts after that – including an impressive 9th round TKO over Jimmy Slattery – the former Light Heavyweight Champion of the world. It was then, after fighting four years as a professional that Jim Braddock's moment in the sun had arrived. Or so he thought.
On July 18, 1929, Jim Braddock met defending Light Heavyweight champion Tommy Loughran in Yankee Stadium for the championship of the world. Fifteen, one-sided rounds later, Braddock left the ring empty handed with his reputation as top-notch fighter severely damaged. Braddock looked bad. And perhaps even worse, fell into a mental slump.
Jim only managed two wins in his next nine fights and dropped decision losses to – Yale Okun, Maxie Rosenbloom, Leo Lomski, Billy Jones, Harold Mays and Babe Hunt. In the period of time between 1930 and 1932, Jim Braddock did win a few fights, but he was losing more than winning. He also lost to and up and coming John Henry Lewis (who would himself go on to become a world champion).  He had gone from hot prospect to journeyman, within the space of months.
By 1933, the effects of the Great Depression were widespread across the country. People were pinching pennies like never before and spending money on attending live cards was put on hold for many.
The parallels between then and now are obvious in many ways. One striking difference, however, would be the absence of credit in the form of credit cards as we have today. How many homes today are filled with things that haven't been paid for? How many cars repaired with parts funded by a lending institution? Back then, it was basically cash or nothing as it's starting to become for many families once again today.
For boxing on the East Coast, especially the hotbeds of action in Jersey and New York, only the popular, in-demand fighters were seeing any regular action. For the most part, that left Jim Braddock in the position of an out of demand, out of work fighter. Jim was an honest, proud man and he was not willing to take handouts from anyone. So he returned to the docks. Even there, however, the hours he logged from week to week weren't nearly enough to do anything but barely get by. With a wife and children to support, Jim applied for relief which he considered to be a close cousin to outright panhandling.
He said in later years that he vowed to repay every penny he'd received from welfare. When the rubber met the road, though, his kids had to have food on the table.
In June of 1934, Primo Carnera was scheduled to defend his Heavyweight title against Max Baer. On the undercard, the promoters needed to find an opponent for up and coming John "Corn" Griffin. Jim's manager Joe Gould practically got on his knees and begged for Braddock to be inserted as the opponent for Griffin. He told them that Braddock was desperate for money, just to put food on the table for his kids.
Finally, they agreed to give him $250 for a 6-rounder against Corn Griffin. It was basically a charitable donation.
For Jim Braddock, this was more than a fight for a quick payday. With no money, little food and little hope for tomorrow besides this single night – he was fighting for his life.
The Jim Braddock who answered the bell for the opening round wasn't the same man fans had become used to seeing. This Braddock answered the bell with destruction on his mind. When the smoke cleared in 3rd round, Corn was lying on the canvas like a heap of broken rubble.
The trainers and sparring partners in the gym as well as the promoters in the front office knew of Braddock's situation. No one really expected much Jim to do much in the ring against Griffen – let alone stop him. Suddenly, a small ray of light began to shine through the dark sky over Braddock's life.
Jim's manager, Joe Gould, was basically in the same boat his fighter was. Together, they forged a comeback the likes of which are seldom seen in the sport of boxing. Next up, five months later – a rematch against John Henry Lewis. Jim had been defeated by Lewis once already – two years earlier. This version of Lewis was even better than the earlier version – having defeated Maxie Rosenbloom twice and entering his prime years as a fighter. He'd gone 16-fights in a row without a loss.
The fight took place in November of 1934. Jim sent Lewis to the floor in the 5th round and came away with a decisive, unanimous decision victory over 10-rounds. In this writer's opinion, the legend of "The Cinderella Man" was basically born with this victory. A supposedly used up, shot journeyman had defeated a complete fighting machine in John Henry Lewis.
Next up, Art Lasky. Lasky stood 6' 4" and had two inch height advantage as well as a 15-pound weight advantage. He also brought a record of 33-2-2 into the fight. Braddock was once again – the underdog. The fight was scheduled for 15-rounds. Braddock, whose record now stood at 43-23-4 took Lasky to school – winning an easy 15-round decision.
Max Baer was the reigning Heavyweight Champion of the world. He toppled Primo Carnera in the 11th round in a completely one-sided fight. Max Schmeling was the number one contender and Jim Braddock's victories had vaulted him to #2. It was then proposed that Schmeling face Braddock with the winner to meet Baer. Schmeling passed.
Jim Braddock then got the nod to face the defending champion, Max Baer. Baer's power could be likened to a Sonny Liston or George Foreman in his time. Two deaths had been attributed to the punishment he was capable of dealing out in the ring. Some people literally begged Braddock not to face Baer. It's been said that even Braddock's wife feared for her husband's safety.
The official odds were 10-1 in favor of Baer. The odds on the street with the bookmakers was set at 15-1. It was the biggest upset in boxing history which stood until Buster Douglas defeated Mike Tyson in Tokyo many years later. The days of struggling to pay the bills and keep food on the table were over forever. Jim Braddock walked away with a 15-round unanimous decision and was the new – Heavyweight Champion of the world!
One of the first things he did was to make good on his promise to pay back all of the money he'd received as a welfare recipient. Jim Braddock was on top of the world.
Jim enjoyed his days as the Champion of the world. Everyone wanted to see Jimmy Braddock. It would be two years before he'd finally put the title on the line. Jim Braddock was, however, among many things – a realist. He'd left his very best in the ring that night against Max Baer. With a record of 45-23-4, he was already a veteran of 72 fights. He realized his best years were behind him.
All Braddock wanted was one more big money fight to set up his family for life. Rather than excepted the challenge of Max Schmeling, who desperately wanted to get Braddock into the ring at this point, Jim decided to accept the challenge of Joe Louis. If Braddock were to lose his title, he wanted to lose it to an American fighter.
Braddock and Louis met on June 22, 1937. Braddock's purse was $320,000. The fight took place at Comiskey Park in Chicago. Forty-five thousands fans piled in to see the action live. Hundreds of thousands more listened in on radio.
Braddock looked sensational in the opening round. He scored with hard right hands to the head, sending Louis to canvas for a 9-count! Louis got up and in round two, started to go to work on Braddock. By the 7th round, he was beaten up pretty badly and his manager Joe Gould wanted to stop the fight. It just wasn't meant to end that way, though. Not for Jim Braddock. He was a proud man… and he wanted to go out the way other great boxing champions before him went out. He wanted to go down fighting.
In the 8th round, Louis unloaded and Braddock went down. They say getting knocked out is a little like falling asleep. It can happen without you realizing it… until you wake up. As Jim Braddock fought his way back from the fog of the dream land, he heard the referee's final count of 8… 9… 10. The problem was, he just wasn't able to move his legs fast enough to beat it.
Jim Braddock would go on to fight one last time, once again – as the underdog. Seven months later he defeated Tommy Farr in Madison Square Garden. Both Farr and Braddock had lost in their previous fights to Joe Louis. Braddock fought very well, much to the surprise of many who supposed he was through once and for all after the Louis fight.
It was a fitting for Braddock to exit the sport on a high note. In a sport filled with so many tragic figures, it's nice to celebrate the triumphant ones.