By Jim Galiano –
Jack Dempsey was to boxing what Babe Ruth was to baseball. Both were products of the roaring twenties and both went down in history as larger than life figures in their sport and American culture. Like Jack Johnson before him and Muhammad Ali after, Dempsey was in the right place and the right time – with the right blend of skill and personality. The rest became history. When he finally passed away in 1983 at the age of 87, his legend was still well intact.
A gentleman outside ring, he was nothing short of being an animal in it. One old-timer who was still living when a young Mike Tyson first burst upon the scene in the 80's said Tyson's ferocity was the closest thing he'd ever seen Dempsey.
Jack Dempsey was born in 1895. To say times were tough would be an understatement. An old Aunt of mine who was born in 1894 (and lived until 1998) used to tell me about them. "Oh, those were hard times," she'd say. "People had to work together, just to survive. It was a different time."
As a teenager, Dempsey lived the life of a hobo, "riding the rails" as they used to say [freight trains], begging for food, sleeping in mining camps. Above all, he learned to fight.  Before reaching the age of 18, he'd already developed a reputation as strong, powerful puncher with a ferocious fighting spirit.
Dempsey fought with a swarming, pressuring style of fighting. Throughout history, the best fighters who were also natural fits for this style enjoyed great success naturally larger, heavier and sometimes even more talented opponents. Mickey Walker, a contemporary of Dempsey's, is a good example. Marciano, Frazier and Tyson are two other examples from the modern era.
Jake LaMotta used the swarming style to hand Ray Robinson his first loss.
This style of fighting fit Dempsey's in the ring temperament like a glove.
During Dempsey's early years, he occasionally lost a fight, although there has been much speculation as to whether or not some of these fights were on the "up and up." Keep in mind, Dempsey was fighting to keep food on the table, send money to his family… and quite simply – to survive. The fight most in question was a first-round kayo defeat against Fireman Jim Flynn. The fight took place on February 13, 1917. It ended moments into the opening round.
Several of Dempsey's friends insisted that Jack took a dive against Flynn. Dempsey's own account of the fight seems to greatly conflict with the newspaper and other eyewitness accounts of the fight.  Dempsey's manager was later quoted as saying that Dempsey had, "Dependants aplenty." There were also plenty of fans in attendance who were of the opinion that the fight was a blatant fix and that Dempsey had taken a dive.
Jim Flynn wasn't a bum. He was, however, on the downside of his career and had suffered knockout defeats in his previous two starts.
The Flynn loss would be the only knockout defeat on Dempsey's record.
The next year, 1918 , was a great year for Dempsey. His third fight of the year was a first-round knockout of Fireman Jim Flynn – avenging the controversial loss from a year earlier. His two most difficult fights came against Billy Miske (D10 *he would go on to win a 6-round decision against him six months later) and "Fat" Willie Meehan (L4).  Dempsey actually fought Meehan 5 times. Meehan won two of the fights by decision, Dempsey won one and the other two ended in draws. These fights, however, were only 4-round bouts.
Dempsey ended 1918 with a 2-round blowout of Gunboat Smith on December 30th. He was 23 years old and entering his fighting prime. His bobbing and weaving style combined with his hand speed, power, and sudden explosiveness were a combination boxing fans had never seen before in a Heavyweight. Dempsey didn't throw single punches, he threw "punches in bunches" to the head and body. His explosiveness was something a lot of his opponent's simply had no answer for.
Dempsey first fight of 1919 was on 1-round blowout of 257 lb. Tony Drake on April 2nd. This set up his infamous matchup against the defending champion and Jack Johnson conqueror – Jess Willard.
The fight took place on July 4, 1919 in Toledo, Ohio. Willard was a mountain of a man – standing almost 6' 7" and weighing 245 lbs. Jess Willard wasn't an active champion. After defeated Johnson, he waited almost a year before climbing back into the ring again. When he did, he broke a bone in his right hand while outpointing Frank Moran over 10-rounds in Madison Square Garden.
Six months later, he fought a 6-rounder against Sailor Burke in Bridgeport Connecticut. Willard won a decision. He wouldn't step into the ring again for almost three years. When he finally did, it was against a primed knockout machine in Jack Dempsey. Willard was thirty-eight years old.
The first minute and a half of the opening frame was the calm before the storm. Approximately a minute and a half into the round, Dempsey explodes with a quick right hand – followed by a booming left hook. Willard collapses to the floor for what would be the first of seven knockdowns in the round. Keep in mind, Willard was the better favorite in this fight and what was unfolding before the stunned crowd's eyes was the beginning of a new era. The Dempsey era. The fight was finally stopped in the 3rd round when a beaten and battered Willard retired in his corner. Willard later claimed that Dempsey's gloves were loaded. This, however, is doubtful. No evidence, including the alleged injuries suffered by Willard as a result of Dempsey's punches has ever been substantiated either by medical records or eyewitness accounts.
Dempsey's reign as the Heavyweight Champion of the World was one of the most colorful reigns in the history of the sport. Every time he stepped into the ring – it wasn't just a fight, it was an event! In his first defense, he destroyed an old nemesis in Billy Miske, sending the iron-chinned Miske to the canvas for the first time in his career before putting him down for the count in the 3rd round. Bill Brennan was counted out after body punches dropped him in the 12th in Dempsey's second defense of the title.
A fourth-round knockout over the former Light Heavyweight Champion, Georges Carpentier, followed in 1921. The fight produced Boxing's first "million dollar gate." It would be Dempsey's only appearance in the ring that year.
It has been said by some that the Carpentier fight marked the end of Dempsey's prime fighting years. It would be two years before he climbed into the ring again to defend the world title against Tommy Gibbons in Shelby, Montana. Dempsey won a decision but no longer fought like the bobbing, weaving, pressuring destroyer of old. The fight is infamous for having almost bankrupted the town of Shelby, Montana where it was held.
By this time, Dempsey was a celebrity and a household name throughout most of the world. In retrospect, he very well may have been the most beloved heavyweight champion of all-time.
Dempsey's final bout of 1923 was his classic slugfest against Argentine strongman – Luis Firpo. The fight, an instant classic, lasted only 3 minutes and 57 seconds. The classic scene of Dempsey getting knocked through the ropes only to be helped back into the ring to barely beat the count was immortalized by painter, George Bellows.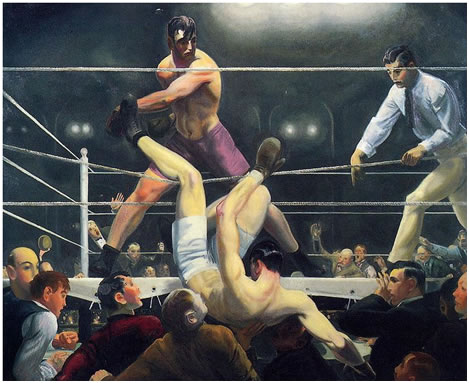 It is quite possible that without the help of those sitting at press row, Dempsey would have lost the title that night. He beat the count, however, and went on to put Firpo on the floor for good in the 2nd round.
It would be three long years before Dempsey would step into the ring again and put his title on the line. There's a popular saying that the last thing to leave a puncher is his punch. And so it was with Dempsey. Like Mike Tyson many years afterward, after the energetic bobbing and weaving, combination punching style waned, the punch remained.
Three years after the Firpo fight, Dempsey faced former Light Heavyweight Champion – Gene Tunney before more than 120,000 fans in Philadelphia. Even today, it's difficult to imagine a sea of 120,000 fans encircling a single boxing ring. Such was the drawing power of Jack Dempsey. Although he would lose his title to Tunney and the subsequent "long count" rematch by decision, his legend remained firmly intact. In a way, Dempsey provided the gold to Boxing's original "Golden Age."
Dempsey remained extremely popular after his retirement. He opened a restaurant called "Jack Dempsey's" in Manhattan. For many years where he would greet guests, shake hands and sign autographs for people who traveled to see him from all over the world. The restaurant eventually closed in 1974.
There has been volumes of information, books, articles, etc., written about Dempsey and his life over the years. Like Rocky Marciano years afterward, Dempsey seemed to thrive against naturally larger, heavier men – seeing them as bigger targets. We can only wonder how a fight with one of the Klitschko brothers would have played out. Could a Wlad or Vitali Klitschko keep Dempsey at the end of their jabs all night long? It's certainly not difficult to picture that scenario if you watch the Dempsey/Tunney fights. Their hard, thudding jabs may have not set up a knockout scenario, but they certainly could have busted Dempsey's mug up pretty good.
What about the younger version? The Dempsey who fought the 6' 6" Jess Willard certainly had the speed and footwork to land his big left hook against either Vitali or Wlad. Their knowledge of this certainly would have put them on the defensive from the onset. Unlike many of today's heavyweight, Dempsey was a fierce body puncher. It's much easier picturing Wlad succumbing to one of Dempsey's all out attacks than Vitali, but either way you look at it, both men would have to survive some anxious moments to beat a prime Jack Dempsey.
Likewise, it's not very difficult to picture Dempsey hitting the floor against either of the Klitschko's. Dempsey's recuperative powers, however, were legendary. The Jim Flynn fight with all its shady goings on aside, Dempsey's ability to recover was right up there on the level of Joe Louis, Rocky Marciano and Muhammad Ali.
At the end of day, however, we can only judge a fighter by what they did in their era and against the competition of their day. In that respect, Jack Dempsey will always be remembered as an all-time great.