Posted by
admin
on in
All Time Greats
,
Featured Articles
|
Comments Off

on Flashback: Michael Nunn vs. James Toney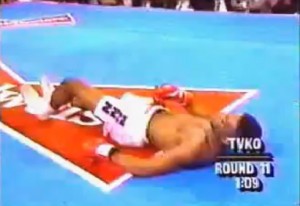 By Joe Torcello –
The Back Story:
Michael Nunn was on top of the world prior to return to his hometown of Davenport, Iowa to face little known – James Toney. The year was 1991. Michael Nunn turned pro in December of 1984. By the time he fought for Frank Tate the IBF Middleweight belt, his record stood at 36-0. Nun stood 6' 3" and possesses lightning fast hands, a great defense, and a difficult southpaw style to solve.  He lifted the title from an undefeated Tate via a 9th round technical knockout.
His first defense was a stoppage victory over the normally tough – Juan Roldan. The knockout of the year followed against Sumbu Kalambay in 1989. Wins over Iran Barkley, Marlon Starling and Donald Curry followed. By 1991, Nunn was rated near the top of just about everyone's pound-for-pound list.
In contrast, the 22-year old James Toney only had a handful of recognizable names on his ledger. Although he'd beaten the undefeated, power-punching, Merqui Sosa, he still wasn't viewed as a true threat to Nunn. Toney's record stood at 25-0-1 with 18 knockouts.
It seemed as though Toney were the fighter of choice for Nunn to showcase his talent against before his adoring, hometown fans.
______________________________________________
The Fight:
The trash-talking leading up to the fight was classic. Nunn even went as far as pretending to be picking fleas off James Toney's head at a pre-fight press conference. Toney threatened to kill Nunn and "break his bones."
The first four rounds of the fight were all Michael Nunn.  Crisp jabs and fast combinations gave Nunn a solid, early lead on all the cards. Nunn's ability to slip and counter Toney's punches practically negated his offensive efforts.
In the 5th and 6th rounds, Nunn scored with right hooks that briefly wobbled Toney and worked the crowd into a frenzy. As Nunn began setting down more on his punches, his cornerman Angelo Dundee told him to stick with the game plan and box Toney. While Toney did score with an occasional right hand, it always appeared to be too little, too late.
At the end of the 6th, Toney's trainer Bill Miller bluntly told him, "You're losing it, son." The words were reminiscent of the opposing corner's Angelo Dundee's advice to Ray Leonard in his bout with Tommy Hearns ten years earlier in 1981. Miller then told Toney, "He's showing you he can be hit!"
Toney came out for the 7th with a new resolve. Nunn landed four quick jabs and Toney scored with a straight counter right hand. Nunn's look of confidence suddenly eroded. Although he continued to use his jab… Toney continued to counter with short right hands. As the 7th round concluded, Toney's confidence had returned.
During the 8th, Nunn began resting on the ropes and Toney went to the body. Although he was ahead on points… Toney had found the key to Nunn's normally air-tight defense.  In the 9th, Nunn did just enough to avoid Toney's right hand punches from turning the tide of the round. By the 10th, the punches Toney had landed were enough to the edge off Nunn's speed and sharp reflexes. Now, it was Toney who was beginning to pick off Nunn's punches.
Before the start of the 11th, Bill Miller told Toney, "You're running out of rounds. You're going to have to fight him the rest of the way." Toney responded. The 11th round opened with Toney's right hand leads finding Nunn's head and body. Nunn then came off his bicycle and began targeting Toney to the body.  By this point, however, Nunn's punches weren't budging Toney while Toney's punches seemed to repeatedly move Nunn backward.
A snapping left hook from Toney suddenly dropped Nunn in a heap. It was only the second time in his career that Nunn had been on the canvas. As Nunn lay on his back, it seemed a struggle just to look up let alone beat the count. He managed to somehow do the later, however, at the count of nine. Referee Denny Nelson gave Nunn the benefit of the doubt when he asked him if he could continue, and Toney pounced. A few punches send Nunn stumbling away into the ropes, his back turned from Toney. Toney followed him to the ropes and exploded two more rights off Nunn's head – dropping him for the second time in the round. This time, his corner jumped into the ring – stopping the fight at 2:14 into the 11th round.
James Toney was the new, IBF Middleweight champion of the world.
______________________________________________
Afterward:
After losing his Middleweight title to Toney, Michael Nunn went on to move up in weight and wound up capturing a version of the Super Middleweight title. Sadly, he never seemed to be the same fighter again. He would win and lose versions of the Super Middleweight belt and failed in his efforts to capture a Light Heavyweight belt. Much of the luster that surrounded his persona seemed to disappear after the Toney fight. He retired for good in 2002. That same year, he was arrested after paying an undercover agent $200 for one kilogram of cocaine.
In 2004, he was sentenced to 24 years in prison for drug trafficking.
James Toney would go on to log a storied career – all the way up to the heavyweight division. While weight problems and uneven performances marred what could have been one of the most prolific careers of all-time, Toney was nonetheless one of the most entertaining personalities in the modern era of the sport.