Posted by
admin
on in
All Time Greats
,
Featured Articles
|
Comments Off

on Carmen Basilio – Blood, Guts and Glory
By Joe Torcello –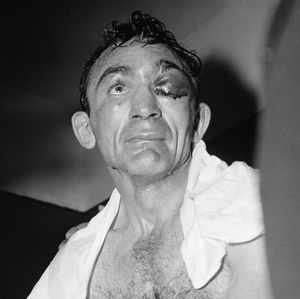 Canastota, New York is home to the International Boxing Hall of Fame. It is also home to the former Welterweight and Middleweight champion of the world – Carmen Basilio. Carmen Basilio was a fighter, through and through. There wasn't anything fancy about Basilio. Back in the 80's, I used to find myself wondering how much money he could have made had he fought during the Leonard, Hearns, Duran, Hagler era? I would have loved to have seen Carmen Basilio's all-out style against those fighters as well as some of the others from that time period.
In reality, though,  Basilio stepped through the ropes for his first shot at the Welterweight title way back in 1953. It was then, almost 60-years ago, that he faced the defending Welterweight champion of the world – Kid Gavilan. Gavilan was a great fighter and is considered by many boxing historians to be one of the best Welterweight fighters of all-time. Most rank him within the top ten – if not the top five of the all-time Welterweight rankings. Kid Gavilan didn't have any discernable weaknesses to speak of as a fighter. He did everything well. He had an excellent defense, good power, and a world-class chin.
If you had to find something wrong with him, some might say he'd get "lazy" at times.
Basilio sent Gavilan crashing to the floor with a big left hook in the 2nd round. Gavilan just beat the count at 9 (in well over 100+ fights, Gavilan would never be stopped). Basilio then went to war "The Kid," bringing the fight to Gavilan the rest of the way. Gavilan wound up keeping the title by a controversial split decision. Carmen, a warrior to the end said, "He keeps the title but I get the publicity."
For Basilio, though, the road ahead wound up being a little longer than expected.
Kid Gavilan went on to lose a horrific decision to Johnny Saxton. Johnny Saxton had no interest at all in giving Gavilan a chance to avenge the loss, and a return fight never happened. Instead, Saxton wound up getting stopped in the 14th round in his first defense against Tony DeMarco. It would take almost 2 years before Basilio would get a second shot at the Welterweight title. Two years and almost a dozen fights later – to be more precise!
When Basilio and DeMarco finally did meet in June of 1955, they waged war until DeMarco succumbed to Basilio's bombardment in the 12th. Finally, Carmen Basilio was the new Welterweight champion of the world.
Basilio granted DeMarco a rematch, five months later. In 1955's "Fight of the Year," Basilio and DeMarco exchanged thunderous punches at a torrid pace until finally… once again… DeMarco was finished off in the 12th.
Basilio supporters weren't very happy when they discovered their man has agreed to face Johnny  Saxton next. After all, Saxton had won a lousy decision against Kid Gavilan and had then refused to give him a rematch afterward.  Johnny Saxton was one those fighters who had no qualms about "fighting ugly." He'd grab, hold and clutch his way to a decision if the referee allowed him to get away with it. Basilio agreed to fight him, however, because it was Saxton's decision to pass on his right to a rematch with DeMarco that wound up paving the way for Basilio to get his shot at the title.
THE FIGHT (Part 1)
Carmen got off to a blazing fast start, catching Saxton with bone-cracking left hook in the 2nd. Saxton appeared to be virtually out on his feet but Basilio got overanxious and let him off the hook. After the fight was stopped in the 3rd to repair Saxton's torn glove, Saxton pushed his punch and grab strategy into high gear. Basilio tried to make a fight of it, but his offense was neutralized by Saxton's repeated grabbing and holding. In short, the fight was a stinker, but Saxton had done enough to steal the fight in the judge's eyes.
At ringside, the majority of the writers in the press row felt Basilio had clearly deserved the decision. The decision was greeted by a chorus of boos from angry fans.
In this dressing room, Basilio was quoted as saying, "I should have listened.  I was warned. I've never been given a deal like I got from that referee."
It wasn't so much that Basilio couldn't move his arms at all when Saxton tied him up in a clinch. Basilio was often able to get one hand free and hit Saxton's head while being tied up. The problem was, the referee wouldn't let him use his free hand and insisted he stop punching until the break.
Basilio wasn't assured a return unless it took place, once again, in Chicago. Saxton had alleged connections with the underworld there… and Basilio declined to fight there a second time.
The New York State Athletic Commission had previously declined to give Saxton a license to fight in the State of New York. For Carmen's sake, however, they relented on the condition that Saxton would agree to fight in Syracuse.
THE FIGHT (Part 2)
When the return bout was announced, the publicity was instant within the boxing world. Tickets sold quickly. Carmen was still in disbelief over what had taken place six months earlier during their first encounter. The New York fans were solidly behind Basilio. Actually, the loss made him more popular than ever with boxing fans in general. They wanted to see Carmen regain the title that, in their opinion, was stolen from him by a corrupt referee and ringside judges from Chicago.
Referee Al Berl, whose reputation was spotless, brought the two fighters together for the last minute instructions… and the rematch was on! Basilio went to Saxton's body immediately in the first round, with quick combinations. He continued in the second, but Saxton got on his bicycle and kept moving. In the third and fourth rounds, Basilio landed hard hooks to the head and body. The head shots seemed to trouble Saxton, and he began holding again. Basilio fought like a wild man to break free from the clinches. Memories from their first fight and the decision that followed were as fresh as ever within his mind.
In the fifth, Saxton stopped holding and let loose with his best punches of the fight. It was the first time in fight Saxton stood his ground to fight back. The six and seventh rounds were filled with action as both men traded punches freely. At the end of the seventh, however, it was Basilio's punches that spilt Saxton's bottom lip wide opened.
Saxton continued to stand his ground in paid for it in the 8th. Blood poured freely from his chewed-up lip in the 9th and Basilio poured it on like a man needing a knockout to win. A right hand from Basilio sent Saxton into the ropes and Basilio followed him there, exploding punch after punch off Saxton like he was a piece of meat swinging from a hook.
Saxton hung on, trying to bob and weave his way out of the storm, but it wasn't to be. Basilio, fueled by the rage that had boiled in him since the Chicago fight – would not be denied.
As Johnny Saxton went limp, arms at his side and no longer able to defend himself, Referee Al Berl stepped in and stopped the fight. The stoppage came midway through the 9th round. The fans exploded into celebration. Their man had righted the wrong and had regained the Welterweight championship of the world. Carmen Basilio, a humble man, had nothing but kind words for the opponent who stood and fought him this time – resulting in an all-out, action fight that was named the 1956 – "Fight of the Year."
Basilio was once again a world champion.
He would go on to fight Johnny Saxton a third time, five months later, in Cleveland Ohio. It would be his final defense of the Welterweight title. This time, he stopped Saxton quickly in the 2nd round. Carmen then jumped up in weight to face the great Sugar Ray Robinson. In 1957's Fight of the Year, Basilio's rugged, non-stop aggression earned him a split-decision victory over Robinson – and the Middleweight championship of the world.
Six months later, in 1958, Basilio granted Robinson a rematch in (of all places) Chicago. Once again, the fight was awarded Ring Magazine's Fight of the Year award. Ray Robinson regained the title with a split decision.
Next, Carmen Basilio would go on to face Gene Fullmer for the NBA version of the Middleweight title. The Middleweight title had become fragmented – with Sugar Ray Robinson holding one version of the belt, while the NBA opted to see the title as being vacant.
Once again, the fireworks exploded as Fullmer and Basilio collided in 1959's Fight of the Year! Fullmer was just a little too large, strong and fresh for Basilio, though. He stopped Carmen in the 14th round. Ten months later, they would fight a rematch in Fullmer's hometown – Salt Lake City, Utah. This time,
Gene Fullmer stopped Basilio in the 12th. After the stoppage, Basilio immediately yelled at the referee, "What do you mean?! What are you talking about?! Then cocking his fist, he said to the referee, "I'll give you one!"
Two police officers entered the ring and led Basilio to his corner as he still protested the stoppage.
Carmen Basilio went on to fight three more times. Two victories led up to a final shot at the undisputed Middleweight championship of the world against defending champion – Paul Pender.
Basilio lost the fight by 15-round unanimous decision and retired afterward.
In all, Carmen Basilio had been involved in "The Fight of the Year" for five consecutive years – from 1955 through 1959 – winning three and losing two.  In retrospect, the career of Carmen Basilio represents everything that boxing fans love about the sport. His career had it all – blood, guts, honor and glory. Here's to one of Boxing's greatest warriors – Carmen Basilio.