Posted by
admin
on in
Featured Articles
|
Comments Off

on Boxing's Home Field Advantage!
By Joe Torcello.
I have to tell you, I really do miss the days of professional Boxing being available on regular, free TV.  Watching the 1988 Olympians such as Evander Holyfield, Pernell Whitaker, Meldrick Taylor and the others become championship fighters under the tutelage Lou Duva and company can be likened unto taking a ride on the journey to the end of an era. And what an era it was! Network television was also responsible for capturing the drama of the sport's "Hometown Hero's" capturing and defending their titles before hordes of their rabid, hometown fans.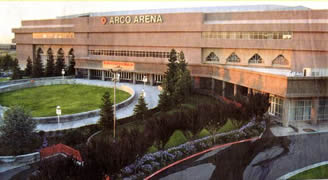 For those who followed the sport at the time, who can forget Virgil Hill capturing the WBA light heavyweight belt in September of 1987? The fight took place in Bismark, North Dakota, Hill's hometown. To this day, it's hard to fathom an "event" in North Dakota attracting the attention of  the hot camera lights. But when hometown son Virgil Hill fought there, that's exactly what happened. Hill fought approximately 21 times there and never lost.
When he eventually lost his WBA belt to Thomas Hearns in a close, yet unanimous decision in 1991, the fight took place at Caesars Palace in Las Vegas, Nevada. One can only wonder how the fight might have turned out had it been fought in Bismark!
Pernell Whitaker enjoyed the same type of status in his hometown of Norfolk Virginia. Whitaker grew up directly across from the 11,000-seat Scope Arena. It was only fitting that his third professional fight finally take place on his own "home field." Whitaker recorded a 4th round technical knockout over a fighter named Mike Golden.
By the time Whitaker stepped through the ropes one final time back in 2001, he'd logged no less than 13 appearances before his Virginia fans.  He was even married in the ring before his friends and fans in Virginia Beach. Whitaker once said, "When I'm at home, it's like the fight is two against one. The crowd plays a big part. No matter who I'm up against, they always give me a big kick and make me fight a little harder."
One of the fighters I used to love to hate was the WBC Jr. Welterweight champion – Billy Costello. Whether it was the way announcer  Gil Clancy always seemed to be fawning all over everything he did or the thousands of cheering, hometown fans… I can't really be certain? Gill Clancy would talk about Billy's impressive power and subtle boxing skills – all of which seemed to me to be average at best. I found myself shouting at the TV at the time, "This guy's fighting opponents who can barely fog a mirror! No wonder he looks so good!"
When Billy finally got pounded out, it happened at Madison Square Garden (still in New York) against "Lightning" Lonnie Smith. Lonnie was dropped in the first, but came roaring back to send Costello repeatedly to the floor  – twice in the 2nd, once in the 5th and twice in the 8th and final round. Still, Costello managed to somehow be ahead on one scorecard and close on the other two!
Nothing personal against Billy Costello, of course. He was just one of those guys I enjoyed rooting against back in the 80's. He appeared with his wife a few times on TV and seemed to be a nice guy. Hopefully he invested some of his money and is living well today.
The next fighter who comes to mind is Vinnie Pazienza. By the time 1986 rolled around, he was well entrenched as Rhode Island's "franchise fighter." The fighter known as "The Pazmanian Devil" nicknamed the Providence Civic Center "The Devils Den."  No other fighter in recent memory could pack in the hometown crowd like Pazienza could. There were times thousands of fans had to be turned away after the Civic Center would sell out for one of his fights.
When asked about the source of his appeal and star-power in Rhode Island, Vinnie answered, "I'm their franchise and my fights are their Super Bowl!"
Pazienza was a good fighter with a lot of heart, but just as importantly, he was a showman and an entertainer as well. Ali's shuffles, bolo-punches (one of which turned out to be a one-punch knockout over Melvin Paul), shouting at his opponents – all these things were part of the Pazmanian Devil's repertoire and his fans loved every minute of it.
Looking back, the fact that Vinnie had no qualms about getting hit in the face, bleeding, and getting generally "all lumped up," it's no doubt that all these things contributed to his overall appeal.
After getting severely injured in a car accident that resulted in a broken neck, Pazienza began an unlikely comeback that included capturing the WBA Jr. Middleweight title against Gilbert Dele as well as winning lesser alphabet titles at Middleweight and Super Middleweight. Looking back over his career, his bouts with Greg Haugen were some of the most entertaining with their comments and out of the ring antics towards one another.
When asked what he thought about the State of Rhode Island, Haugen replied, "The place is so boring, watching the tide come in can draw a crowd."
One the West Coast, you didn't have to look any further than the Arco Arena – home of Tony "The Tiger" Lopez, to witness the home town phenomena alive and in action.  Tony's tiger striped robe and leopard skinned boots were on prominent display the night he defeated defending champion Rocky Lockridge for the IBF Jr. Lightweight belt. It was named the Fight of the Year – 1988 by Ring Magazine.
In September of 1990, Lopez decisioned Jorge Paez in front of 15,008 screaming fans at Arco Arena – an event which broke the live gate record previously held by the Ali-Norton II bout back in 1973.
In Tony Lopez's case, he wasn't always considered a headline attraction at the arena. His breakthrough fight came on March 25, 1988. One that night, he defeated Canada's Tony Pep. And just like that, everything changed. Promoter Don Chagrin said , "I had promoted Carlos Palomino and Mando Ramos in LA, and through the years I notice you can feel when someone has arrived. I sensed that, particularly in Tony's case. When Tony knocked out Pep, I got that same feeling. People didn't want to leave the arena. I said to myself, 'A star is born.'"
Unlike some of the other "Hometown" star attractions, Tony Lopez wasn't the only "game in town" in Sacramento California. For Lopez, he had the benefit of "coming of age" in front of an existing crowd of hardcore boxing fans. It was in Sacramento that Lopez became a regular part of the sports scene, lending his growing popularity as a world champion to Sacramento scene.
In 1989, Tony Lopez lost to John-John Molina, in what many considered to be a premature stoppage. Molina and his corner were pelted with beer and ice. With the exception of possibly Philadelphia, Sacramento fans had the reputation as being some of the harshest fans in the nation towards out of town teams.
Vinnie Pazienza who lost by disqualification against another hometown hero in Loreto Garza at the Arco Arena said of the Sacramento fans, "They're rude, low class, rotten people."
_____________________________________________
FAST FORWARD TO 2010
In recent times we've once again gotten a glimpse of the old-time, hometown hero – thanks to the creation and marketing of Showtime's Super-Six Super-Middleweight Tournament.  Andre Reed stepped onto the world stage with a bang before his adoring, hometown supporters at the Oracle Arena in Oakland California where he defeated the defending champion, Mikkel Kessler, for the WBA Super-Middleweight belt. He later defended the title at the same location with a one-sided victory over the dangerous – Allan Green.
On the other side of the pond, the UK's Carl Froch enjoys similar status and attention in his hometown of Nottingham. Froch recently lost his title on the road in a closely contested battle against Mikkel Kessler, who rebounded from his loss to Reed to gain the WBC belt. And guess what? It just so happens that Kessler made it happen in front of his own, screaming, cheering, hometown fans.
There's no doubt that fighting in front of hometown fans usually does give a fighter somewhat of an advantage. Some may argue that it's only mental. A fighter's mentality, however, goes a long way in determining how well he performs on any given night. This is especially important when a fighter is facing an opponent whose skills are at a similar or near level to their own.
Of course, there have been fighters who are fan favorites and "hometown hero's" just about everywhere they go. Ray Leonard and Oscar DeLaHoya are good examples of this. In many ways, Manny Pacquiao is now finding himself in a similar position.
Love them or hate them, the hometown hero's have been a part of and hopefully will continue to be a part of boxing lore…
Perhaps the new Showtime tournament is a positive sign of things to come!