By Jimmy Krug.
The year was 1915.  The No-Decision Era would last another 5 years until the Walker Law went into effect in the State of New York. The era was a perfect fit for Philadelphian Light Heavyweight – Battling Levinsky.  Levinsky was a slick, safety-first, boxer who's style kept him out of serious harm's way – more often than not!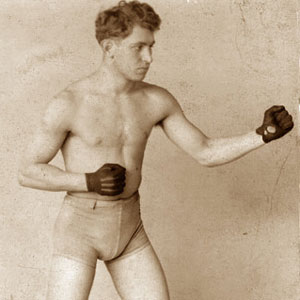 As a result, Levinsky was one of the most active fighters of the day.  His manager, the infamous "Dumb" Dan Morgan once said, "He'd fight every single night if I told him to."  On New Year's Day, 1915, Levinsky fought Bartley Madden.  The fight took place at the Broadway Athletic Club in Brooklyn.  The fight ended in a 10-round no-decision.
After lunch, Levinsky and Morgan made their way to Manhattan where Levinsky took on Soldier Kearns in another 10-round no-decision battle.  Immediately after the second fight, Levinsky and Morgan drove to Grand Central Station and hopped aboard the train to Connecticut where Battling Levinsky faced Gunboat Smith in a 12-round bout held in Waterbury.
Needless to say, Levinsky loved to fight, and he loved to make the money that went with fighting, too.  When asked how he could fight three times in a single day, Levinsky said, "I never get hurt and I love money!"
Battling Levinsky went on to win the Light Heavyweight Title in 1916.  During his career, he claims to have fought over 500 times.  Although the records are sketchy from that era, approximately 300 of those fights have been recorded by the Ring Record book.
Levinsky won the title from Jack Dillon in 1916.  He lost the title four years (and almost 60 fights later) to Georges Carpentier.
___________________________________________
The Boxing Magazine – February 2010