Posted by
admin
on in
Editor's Desk
|
Comments Off

on Andre Ward
By Jimmy Krug.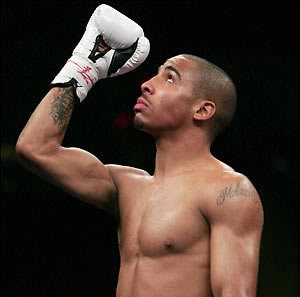 Andre Ward has once again captured the attention of the boxing world with his 12-round unanimous decision victory over Allan Green on Saturday night. Green came into the Super Middleweight tournament as a late replacement over Jermain Taylor (who called it quits after a brutal knockout defeat to Arthur Abraham).
Green is a puncher, pure and simple. He brought a record of 29-1 (18) into Saturday's fight. In my opinion, Green was a great replacement for Taylor. He's what I call a "classy trash-talker" whose personality adds a different type of dynamic to the mix. Regardless, it was Ward who shined on Saturday night.
Afterward, Allan Green told reporters he'd over-trained and did not have his usual strength going into the fight. Whether that is true or not doesn't change the outcome. Once again, Ward produced results when it really counted. After all is said and done… that's all that really matters, isn't it?
On the other side of the coin, some are already criticizing Ward's boxing style. This is common. Everyone likes to see knockouts and I'm no exception. While Ward's style may not cause the casual observer to gasp in awe, he's not exactly pillow-fisted either. Ward's a boxer – pure and simple. And it seems like he continues to get better at what he does with each passing fight. He may not be invincible, but at this point, I'd confidently pick him as the favorite to win the whole Super-6 tournament.